Scam alert on the Regal Wealth binary trading bot
Mary Pearce
Judge Binary Options
.
As we proceeded in our investigation, we were shocked to discover that actually stole the names of two real American investment advisory firms. These firms obviously do not have anything to do with this online scam, and probably unrelated to any Binary Options firm.
This kind of name stealing by the creators of the Regal Wealth bot, was probably meant to piggyback on the good reputation of the honest firms. It is also possible that these firms will take action to sue the website for trademark infringement, which would also mean that any investment in Regal Wealth is in danger.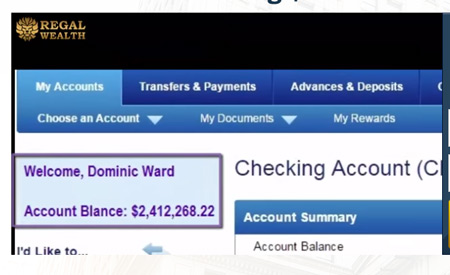 After this objectionable start we further looked into the Regal Wealth website. The most important element of the website is the video. It looks suspiciously staged, with a Michael King posing as the owner of Regal Wealth trading firm. In the video he is sitting with a newbie investor and excited over some instant profits done without any effort on her part.
They have supposedly went out to lunch, only to discover when coming back that their account balance grew to $2,241. Michael King claims that all profits were made by Regal Wealth while they were out for lunch.
This is a silly and outrageous claim that their $400 turned into $2,241 in just over an hour, and representing it as if it is a regular occurrence. It might happen as often as winning the big lottery prize, and even that is a little bit absurd.
Then the actor Michael talks about how he opened his own trading firm, while showing two of his traders at their desk, trying desperately to look busy trading. However, those who have sharp eyes would notice the trader on the right is not looking at real charts, but rather a static picture of charts. He is playing with his mouse to zoom the picture in and out so it will not look too static...
It didn't surprise us that this guy is not a real trader, and he was not busy analyzing real live charts. This is obviously an actor who has been directed to zoom the picture in front of him so that it doesn't look too static and fake.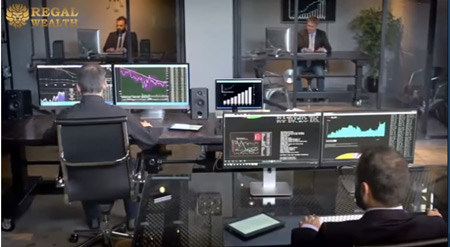 We strongly warn you against giving your hard earned money to people who are using such cheap manipulations, lies and tricks.
Their tricks include: stealing the brand names of legitimate investment houses, piggybacking their reputation, displaying fake account statements and making bogus misleading claims of extraordinary profits, of course with no real proof. To prove their outlandish claims they give us nothing but actors in a fake office.
Verdict: run away as fast as you can!
We will continue to strive to eradicate these filthy scams and promote an honest, healthy binary options industry. For other shocking scam investigations, please see our binary options scams page.
Our rating: